No one would have imagined receiving their favorite food instantly at their doorsteps in the late 90s. But now with the advent of impeccable tech advancements, this has become true very easily. It has also proved how technology can make people's lives easier than imaginable. First, restaurants have their own delivery services. This limited the preferences of customers since to get the food at doorsteps they had to choose the ones delivering at home by default.
This limitation doesn't exist anymore with the food delivery service. Food delivery applications like UberEats have made this process more convenient, preferable, and time-saving for the customers. The demand for food delivery apps has thus grown to the point where people all around the world are adopting them. This has also increased the need for clone app development companies and their services to create food delivery apps replicating popular apps.
UberEats clone app development is being preferred by most of the food delivery companies because of its fascinating features and safety add ons. Not just for existing businesses but also for startups or entrepreneurs, this is a very good start and the best time to invest in this sector. Let us get to know the factors of UberEats clones that highly benefit the food delivery businesses.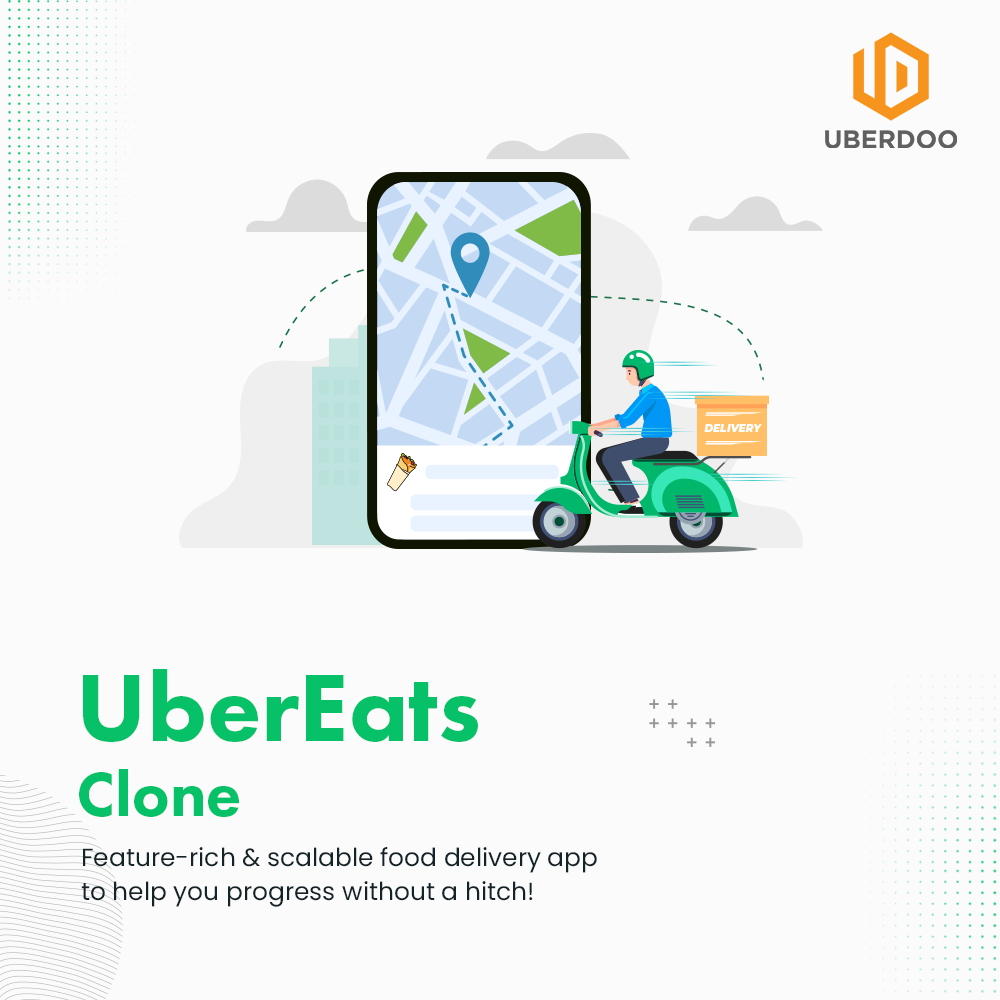 Business Benefits of Opting For UberEats Clone App Development
#1 Customizable Solution
The UberEats clone script is highly customizable. It is not limited to the features and functionalities present in UberEats alone. The existing features can be modified, removed, and new feature sets can be added to the clone according to your business specifications. The user interface can also be altered keeping in mind your business needs. This is one of the biggest advantages of the UberEats Clone App.
#2 Scalability
The clone app scripts are usually unencrypted and open-source. That is why they can be easily customized and scaled according to future changes in your business requirements. Updating features by aligning with the evolving trends and technologies is essential for gradual business growth and that is exactly what the UberEats clone supports.
#3 Readymade and Easy to Launch
Developing an application from scratch and launching it in the app store is a more tedious process than you think. But in the case of UberEats-like apps, the scripts are already developed. These scripts are just going to be altered according to your requirements. Since the script is an already approved one, the approval process is also narrowed. This saves a lot of time and the clone app can be launched in a matter of days effortlessly.
#4 Precise Tracking Features
UberEats comes with a heap of useful and user-gripping features. One of them is the real-time tracking feature. To develop this feature, there are a lot of aspects to consider, toolkits to use, and high skilled labors along with high charges. But none of this applies to an UberEats clone app since everything will be already done and dusted.
#5 Affordability
Cutting down investment values is the major concern of any business. Opting for the UberEats clone will support the business investors with this aspect by enormously lowering the app development costs. All it takes is to invest a little amount for the customizations. This not just saves a lot of money and resources but also hugely reduces the app launch timeline.
#6 Success Possibilities
The on-demand food delivery sector is flourishing with new tech trends and huge audiences. Hence there are a lot of business opportunities in this industry. With the development of UberEats clone applications, people easily start using it and keep on using it since they are already familiar with using UberEats. This contributes hugely to your food delivery business success and this model has proved to be a successful solution for many existing businesses.
Closing Thoughts
When you make the right decisions and choose the right strategies, nothing could stop you from growing your food delivery business. Especially, opting for the development of an efficient food delivery application like UberEats is definitely a wise decision to make.
Having said that, the next right thing to do is research and find the best clone app development company for creating a reliable UberEats clone application for your business. Make your business lucrative and flawless by choosing the right company and building an app that satisfies all your customer needs.