Have you ever thought of donning an all-white look? Or are you concerned about how it will come across? Or worse, that it might look like you're wearing a uniform?
Well, trust us you can never go wrong in all white. Now, let's read how.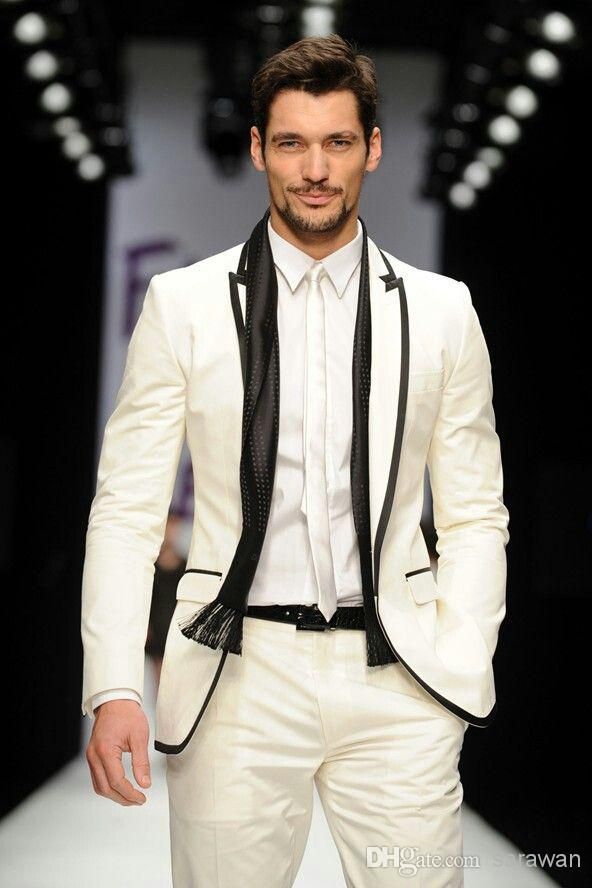 White Suit
The summertime gives a superb chance to wear the white suit at various events and give yourself a break from the typical blue and grey suits. It is not very hard to conquer the white suit look if you know what you need to get it right, confidence being one of the major ones.
In case you are opting for a summer suit in linen, then you can choose an off-white or cream white suit to add a more relaxed feel to your white suit. This sort of creased and toned-down white suit will complement your relaxed and comfortable look.
The other essential thing to achieve a perfectly white suit look is to ensure that your suit is tailored to perfection (particularly if you opt for linen fabric). A white suit brings a certain character to your closet more than any regular suit.
And if you want a simple easy-going white suit for summer, then get a two-buttoned single-breasted suit. But if you are considering being more experimental by going dandier and being the highlight of certain events, then you can also pick a double-breasted three-buttoned suit. But be careful to carry your white suit well and look edged with all the accessories needed in this case. Also, don't forget to wear slim fit or straight-leg trousers that are slightly cropped at the bottom.
What to pair it with
Pulling off a white suit with accessories of the same shade may or may not work. So you can consider opting for lighter neutral shades (stone, tan, beige, eggshell) or pastel colors for your tie, belt, pocket square, and shoes. In case you want to be the showstopper with all eyes admiring you, then go for some contrasting patterns and colors like red, blue, or violet.
You can also create a powerful and elegant look for formal events by going with the entire outfit (the jacket, shirt, waistcoat, and trousers) to be white. In case you are donning a white linen suit at the beach, then team it up with a light-colored or white linen shirt. Otherwise, for some formally casual events, it is necessary to break down the all-white rhythm. Instead of wearing a white shirt, go for a pastel or darker shade that contrasts with your white suit, like light-blue, khaki, beige, and nuances of pink.
Also, remember to wear the right footwear or shoes with your white suit. Although white suit goes well with almost all the colors and styles of footwear. But, you'll still need to ensure that your footwear matches your white suit. Avoid wearing all-white shoes, as they are a poor choice. They blend completely with the suit without adding any character to it. Pairing it up with loafers, brown oxfords, or boat shoes is a safe option, giving you a smart summertime look.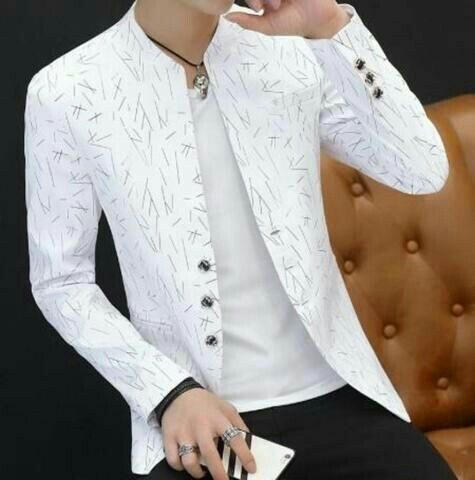 White Blazer
There are multiple options to put you in a dilemma when we talk about blazers. You can easily find the perfect one and add it to your wardrobe to carry out throughout summer. A white blazer will act as classic summer layering.
What to pair it with
A blazer goes great with well-fitted trousers or chino pants teaming it up with a tailored polo shirt or a formal shirt. The most important thing to keep in mind while wearing a white blazer is that it is the only "bold" piece that your outfit needs. Your most reliable bet is to match it up with muted colors that will complement the white.
You can correctly play out with this blazer with rolled-up sleeves and a popped-out collar, giving a charmingly stylish look to your appearance.
Linen is ideally the most suited fabric for casual unstructured blazers. Another look that someone who desires to go for a casual all-white look can try is pairing it with smart summer-white pants and an open-necked men's white linen shirt. Complete this look with a pair of sockless loafers and a printed or patterned pocket square. Blazer and jeans work the best together and are a good-to-go combination while creating a casual, yet put-together look. Avoid pairing it up with really big checks in dark shades in case you require a perfect summer look.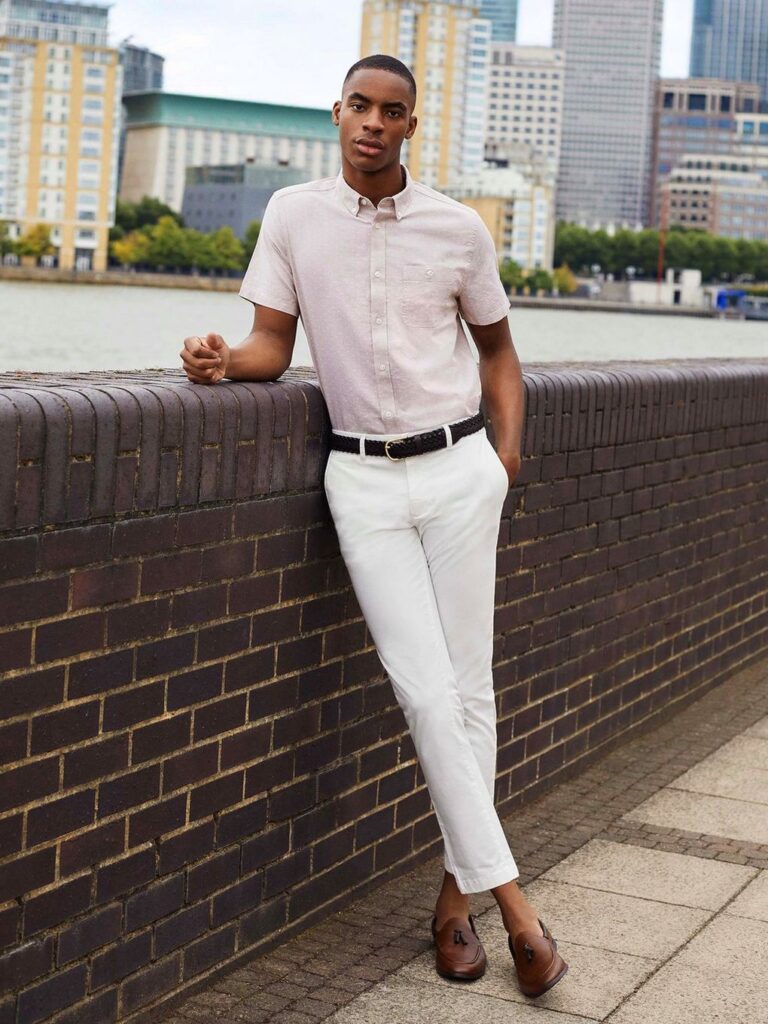 White Chinos
A staple in every man's collection, white chinos are a must in every men's wardrobe. Usually, they are a favorite for all city men during summertime. What matters is how you choosing the perfect white chinos for yourself with the most reliable color combinations and how to cut through confidence issues, along with the most suitable time and place to wear them.
What to pair it with
As white chinos are the focal point of your outfit, so don't forget to think about the various shirts you can wear with them. You can either be highly creative or be very simple while acing your look. The options of shirts vary from striped, denim, printed, or a simple polo shirt.
To get a more formal look, try pairing them with brown brogues. Boat shoes or light brown loafers go the best with white chinos, when you are going for a night in the city and want to keep your look casual but not too casual.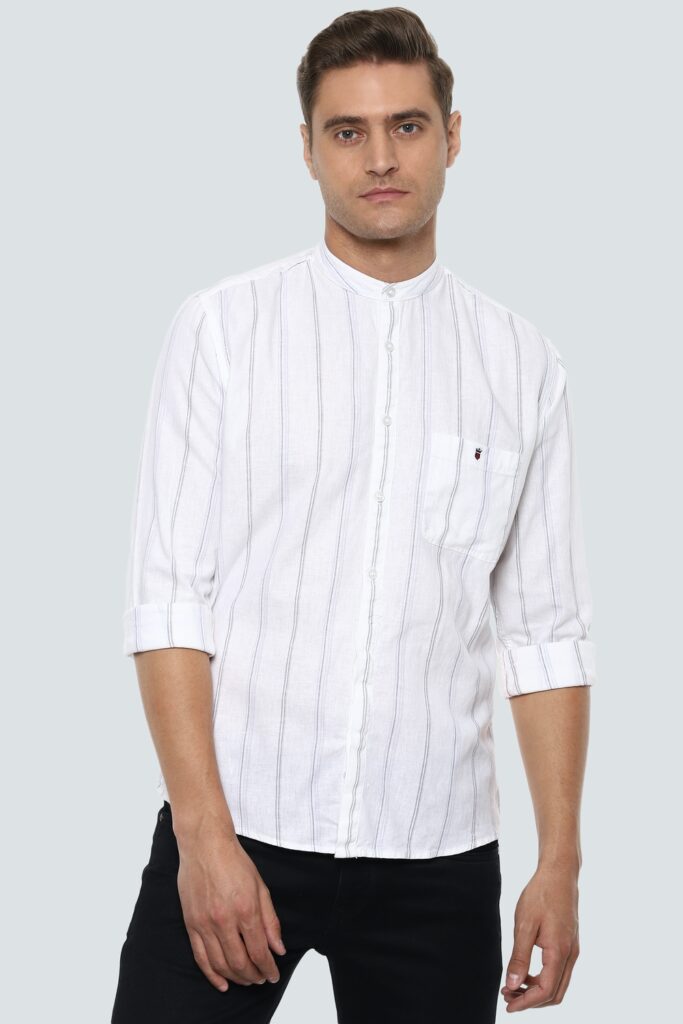 White Linen Shirt
Summer is the best time to spend in some cool and breathable shirts. Men's white linen shirts are the most suitable to buy in the summer months. It will save you from the heat and persistent sweating, providing a breezy and carefree look.
What to pair it with
Don your linen shirt with tailored shorts or maybe a slim pair of chinos, creating a bold yet understated style. A cotton striped blazer or a linen blazer in a light blue will uplift your look for casual occasions at night.
With an uptick in all-white trends, men can pull off a stylish, elegant, and trendy all-white look with great ease. So, be brave, be bold, and opt for an all-white look for your next event.