All those toilers definitely need a soothing massage. But after a tiring day, none feels like traveling to a massage center or spa. And weekends are always the time for snoring and chilling. Where is the time to visit the spa? No worries! With smartphones in hand, everything is simpler and possible just by a few clicks. Looking at the demand in the market, entrepreneurs are getting into Uber for massage app development.
Masseur/ masseuse and the students up the study of massage therapy is on the rise. The number of people getting a massage has been increasing all over the world. Hence building an on-demand massage app like Uber can bridge the gap between the service providers and the seekers.
According to Harvard business reviews, over 23 million consumers are attracted to the on-demand service apps gaining revenue of 57.6 billion dollars each year. Statista states that the massage industry in the U.S generated approximately 16.3 billion dollars in revenue.
If you are an enthusiastic business person seeking to get your hands on the development of a massage app development, it is crucial to add few key features that allow the users to easily understand the app and get benefited.
The Six Impeccable Features Of Uber For Massage App Are,
Log in and book an appointment
Permit your users to easily log in to the app using social media credentials or their Email Id, or mobile number. Providing multiple login ways can help the users to pick the most convenient way. This enables a favorable first impression. Upon successful login, users can now book an appointment with a professional massage therapist in a blink of an eye. Users should enter the location where they wish to get their massage therapist to arrive. Some may prefer hotels, while others want it at their home. Thus a location has to be entered to find the therapists in that locality. Upon selecting the right massage therapist, users can book an appointment based on their availability.
Detailed therapist information
When there is an ocean of therapists available to give their service via the app, a detailed description of them can help the users to get to know and select the right therapist. Therapists can exhibit their details like name, location, years of experience, expertise, an image of them, etc. Looking at the description of the therapists, users can add a few of them to the favorite list for quick future reference.
Manage bookings
Last-minute decisions are a part of life. Few users will require immediate booking and so an on-demand booking app will enable the users to instantly book an appointment and get the massage therapist to visit right at the doorstep. On the other hand, there might be situations where the users have got a sudden change in the plans that forced them to either postpone or cancel the appointment. Allow your users to manage their upcoming bookings and change them before the scheduled time. Upon successful cancellation, the refund process will be initiated.
Multiple payment gateways
These days the mode of payment is drastically changed, and each prefers a different type. So provide your user with multiple payment options for them to choose their convenient payment mode. Users can add their bank account, credit/debit card, UPI, and other mobile wallets to the app for instant payment. An additional tip option is available for the users to provide gratuity to the service provider upon completion of the service.
Advanced search bar and filter option
When there is a variety of options, picking the right one might be a difficult process. Thus provide your users with an advanced search bar for them to choose the right therapists that match their parameters such as location, type of service, years of experience, etc. Users can also look for a specific service provider by mentioning their code or name in the search bar. Thus an advanced search bar is vital to elevate the overall user experience.
Push notifications
To retain the existing users in your app, engaging them always is an important factor. Consistent notifications can be sent to the users about every activity happening in the app, like payment confirmation, reminders on upcoming bookings, offers, and other promotion notifications. This tends to keep the users updated about the app.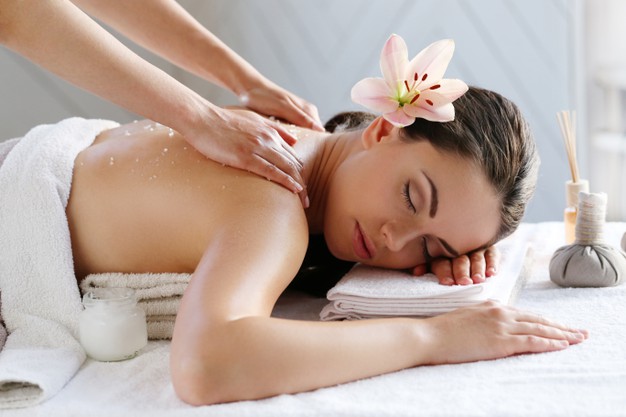 Future of Uber for massage app development
Building an on-demand app like Uber can be a potential start in your business as the number of service app users is increasing each day. It is no wonder that the Uber for massage app can gain the attention of a lot of people and set you high in the market.
With a strong user-base, you can expand your app eventually by adding extra features and multiple services like beauty services, automobile services, plumber services, etc. This can leverage your business swiftly and make you come out with flying colors.
Incorporating target-specific services and customized service plans are also an added advantage to your app. This can bring in a vast number of users as customized plans are always the most desired among the users. Safety features like SOS buttons and other safety ensuring tools can be provided to ensure the safety of the customers. Verification badges for service providers can maintain the authenticity of professionals to exhibit their service in the app, which is likely to attract more customers.
To expand your business, do proper market research and gain knowledge about the demands of the users. Provide your users what they want. It is the key to attain success. Keep both the users and the service providers happy to make your app more successful. Constantly review the feedback of the customers so that any mistake can be rectified immediately.
To encapsulate,
I hope that you have gained a clear understanding of the key features to add while building your on-demand massage service app development. To strengthen the user experience, you can also add a few more features such as In-app chat, availability toggle, etc. This can make you stand out from the other on-demand massage apps in the market. So don't overthink and get going with Uber for massage app development and elevate your business to another level.
Contact Us:
Mail Id: info@turnkeytown.com
Phone Number: + 919384801116
Website Url: https://www.turnkeytown.com