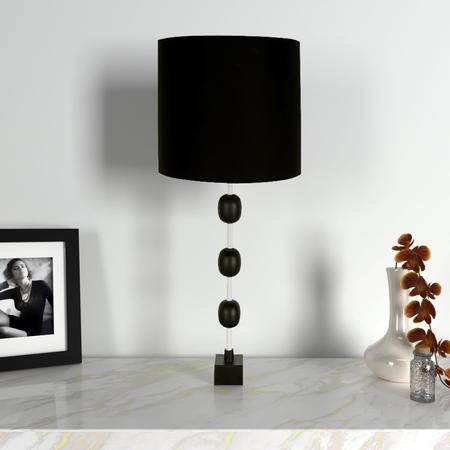 Table lamps add a mystical beauty in the room where it's place. These lights impart a warm and subtle glow, which low-key brightens up a space, but spreads a surreal vibe around. It is majorly used for beautifying the table area and it tones down the hustle-bustle of your room. In other words, it tries bringing in peace and calmness to the surrounding. One unique feature about these lights are, it's best used as study lamp. These bedside lamps are a readers favorite friend at night, doesn't matter if you're reading a book before going to bed, or having a conversation with your partner at the end of the day. Table lamps are a symbol of serenity and wholesomeness.
Wallmantra perceives the art of table lamp and acknowledges it's beauty; hence, it brings to you the elite range of table lamps to illuminate your favorite table and desks:
The Wooden Drama Long Table Lamp
Add some drama to your table with this wooden craft. This round table lamp perfectly glams up your corner table and you would be left in awe with the sheer beauty of the lamp. If your room exhibits a modern décor, this artistic lamp would totally complement your style. You can also use it as a reading lamp at your bedroom.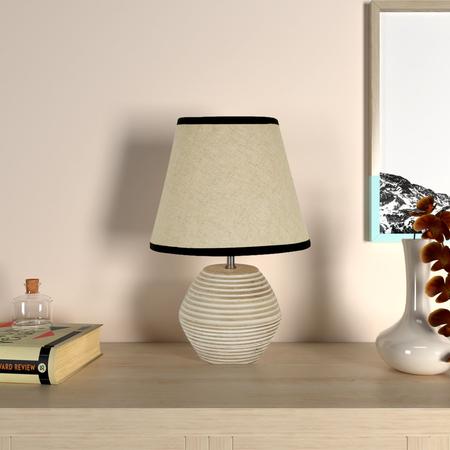 Sterling Table Lamp
This exotic silver finish lamp is a classic addition to your décor. The sleek and uber-stylish appearance of the lamp is out-and-out alluring. It is a perfect blend of beauty and sophistication which lightens up the corner. The black lampshade beautifully merges with the mood of the night. It can be used best for setting up an instant lighter mood and a serene atmosphere.
Flower Design Wooden Table Lamp
Want to add a distinct décor to your table with putting much effort? This wooden table lamp is just for you. It is made of imported and engineered pine wood which imparts a luxe texture and the quality is a class apart. More than just a lamp, it is actually a striking décor item which beautifies the room more than anything else. Many other impressive design options are available on this lamp.
Christmas Design Wooden Table Lamp
This pretty design is worth appreciating because of it's theme. A table lamp dedicated to the auspicious occasion of Christmas and all the related vibes. If you love this occasion and want one corner of your table to reflect the happy vibes, you should definitely get this lamp. It can also perfectly fit as a night lamp for kids room.
Palatial Illumination Classic Table Lamp
As the name suggests, this table lamp is synonymous to sumptuousness and luxury. The very traditional appearance of the lamp is the best factor about it. It is made of superior quality metal in gold and black finish, which makes for the perfect glamour quotient on your table. This table lamp can be placed anywhere from your living room to your bedroom. It looks elegant and classy irrespective of where you wish to put it. This lamp is an ideal addition to a sophisticated décor.
Takeaway
Lamps are one of the most ornate elements to subtly light up your room and fill it with sheer elegance. Wallmantra understands that beauty is a subjective affair, and hence, it has all types of lamps that would complement your kind of décor. From simplistic to magnificent lighting, we got it all covered! The above mentioned lamps, are few of our favorite collections, however you might find your best one, ones you explore more of these on our website. This could also be one of the best gifts you can get for your décor loving peeps. To know more about our products, visit our website today!