In the mid-2000s, warm, earthy-toned floors were all the rage. Back then, grey was seen as a sad and depressing colour. So grey laminated flooring wasn't the immediate choice.
But around 2010, people gradually started leaning towards cooler and cleaner tones. Today, grey is considered one of the most popular and versatile colours. The hue has an amazing availability in warmer and cooler shades- offering endless possibilities to interior designers and homeowners to experiment with their décor ideas.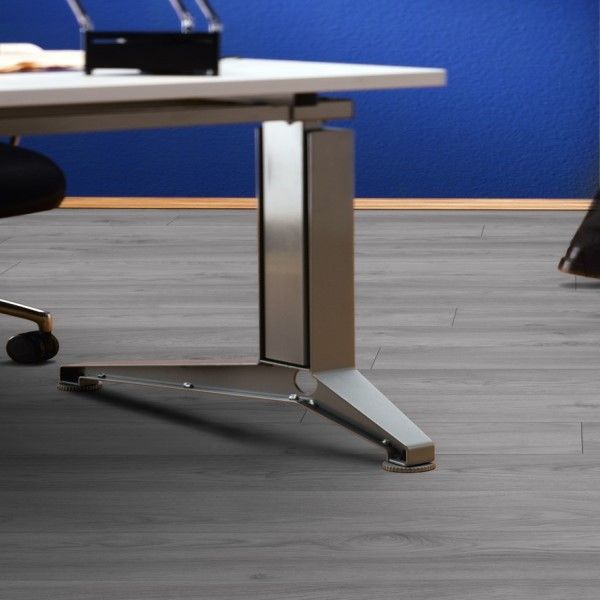 Grey laminate flooring is extremely popular in 2021, and here are a few reasons why.
A neutral foundation
Grey is a neutral colour. One of the primary benefits of using grey flooring is that it acts as the perfect foundation for all your furniture. It is easy to work with and can match any interior style.
For instance, if you want to add a colourful accent wall (which looks superb, btw) in sunny yellow or mint grey, laminated floors will get easily blended and create a most enthralling space for you.
What's more, if you are looking to rent out the property or use it as a vacation home, a colour like grey will be perfect to put together a neutral yet luxurious living space.
A practical choice
While deciding on wood flooring for your home, it is essential to choose something that strikes a balance between look and longevity. Grey laminated flooring is durable and versatile for areas that are prone to wetness, spills, moisture, or scratches. So, you can imagine how reliable grey floorings will be if you have kids!
In high-traffic areas like the kitchen or the bathroom, or even the living room, grey laminated floors give a resistance. Spills and scratches aren't that noticeable on a grey floor. Its effortless maintenance and durability make it an excellent choice for big families.
The Affordability factor
If you are considering a home renovation, flooring can be very expensive. Lamination is made of cheaper materials at the bottom and a wooden finish at the top. This makes laminated floors a more affordable option.
If budget is an issue, we recommend you to stay away from solid wood flooring. They are high maintenance and can take a lot more time to get done. Instead, a high-quality laminated grey floor from Floorsave is a much sensible choice. They are reasonably priced without compromising on the quality and that stylish finish.
Robust and easily available
Laminated floors have an added applique just below the protective layer. This applique ensures that your grey flooring is water-resistant than other floorings. Grey laminated floors are quite robust in nature.
Due to such a rise in demand for grey floors, there are literally buckets of options available for you in the market. There are different textures, colour combinations, tones that make them suit any budget.
It makes spaces look bigger
The presence of grey lamination makes a minimalistic style that works wonders when you want to make the room look spacious. Grey floors are easily adaptable, but they add uniqueness and tranquillity to the rooms.
People with smaller apartments often want to make the rooms appear bigger and have an airy atmosphere in their house. Grey laminated floors are perfect for that. It is faster to install and can make any space look luxurious and chic.
Yes, grey laminated floors are still in fashion
Yes, grey laminated floors are still in fashion
Grey laminated floors are:
• They are durable and resilient.
• They are pretty low maintenance and easy to install.
• Grey floors complement any décor and choice of colours.
• Spots and spilling won't really change the shade of the colour.
• It is quite inexpensive and comes in a wide range of budget.
• They are readily available in the market.
So, grey floors are here to stay.
According to the market, laminated flooring, in general, is gaining popularity, and so is grey flooring. Grey is one of the easiest ways to introduce colours in your home without going overboard.
Laminated flooring can take a lot of expertise. Be it oak laminate flooring or grey laminated flooring; it takes time and experience to get a professional finish. If you are looking to go for laminate floors in your home, check out the options here.